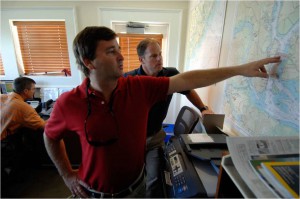 A Full Branch South Carolina Pilot is highly skilled and trained individual who has put many years into gaining his position.  Apprentices are only taken on when the total number of state-licensed pilots is forecast the fall below the minimum number determined by the state to serve the needs of the Port of Charleston.
Applicants must apply through the Commissioners of Pilotage of the Lower Coastal Area, who are appointed by the Governor of South Carolina to promulgate regulations contained in Chapter 136 of the State Code of Regulations governing pilots and pilotage.
By the time a pilot becomes "Full Branch," or licensed by the State of South Carolina to pilot any vessel of any size, he or she will have:
Earned either an undergraduate degree with a competitive cumulative GPA or Third Mate License.
Been scored by the Commissioners of Pilotage during the highly competitive application process which includes a physical examination, character references, in-person interviews, and examination of college performance and relevant maritime experience.
Completed 1,200 trips through the harbor over a three-year period under supervision of a Full Branch Pilot.
Obtained a U.S. Coast Guard Master's License with a First Class Pilot's Endorsement.
Satisfactorily completed testing and examinations throughout apprenticeship as supervised by the Charleston Branch Pilots.
Successfully ascended through the rankings, or branches, of pilot licenses to reach a level of Full Branch Pilot.
All inquiries regarding application for apprenticeship should be directed to the Commissioner's of Pilotage.  Please click here for more information.  https://llr.sc.gov/pilo/